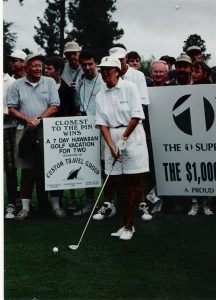 The Diary of a Cancer Caregiver journey started on a golf vacation that my wife and I took with friends in October, 2004, to Hilton Head Island, SC. We were celebrating my wife, Diana M. Grace's birthday which occurred on October 31 – Halloween.
But first, let me provide a little background.Diana and I moved to Frisco, TX, a suburb of Dallas, in 1990. I was President of a small High Tech company and Diana had just resigned her position of Marketing Specialist from Data General Corporation, Westboro, MA. She had worked for them the last 13 years. After spending lots of time in Europe and The Netherlands in the early 90's on business, we settled back in our Frisco home. I had a corporate business office in Amsterdam and so we had an apartment where we would stay while I was in Europe. Upon our return from The Netherlands in 1992, Diana started her own company – GolfTournament.com LLC. My office was now based in the Dallas area.
Now we will jump forward to 2004. We are still living in the same Frisco, TX house. I had resigned from my position but Diana was still running her Company. The Company had grown to 8 employees and she had purchased her own 3000 square foot building (with a mortgage of course) I was spending time consulting to other high tech companies and some hours each week on an internet strategy for Diana's Company. Until Diana's cancer diagnosis, neither of us had ever been hospitalized with an illness. Sure, we had the flu and colds occasionally, but never any serious health problems.
Now, let's continue with our Hilton Head golfing vacation. While we were playing golf one day, Diana started to complain about a pain in her shoulder. All of us shrugged off Diana's complaints about her shoulder pain. If you are a golfer you will understand. Hit a bad shot – complain about shoulder pain. Normal golfer behavior.
Later that day, Diana started to lose her voice. She also started to wheeze when she would try to speak. And to add more misery she started to cough. We all agreed that Diana should visit a doctor as soon as we returned to our Frisco home in a couple of days.
To continue on this journey, you will need to sequentially click through each of the emails links. The original emails did not start until January 2005, after Diana was diagnosed with Stage IV Lung Cancer. However, I have documented the events leading up the diagnosis. Each email has a link to the next sequential email. The journey for the cancer patient finally ended on April 7, 2007 – 2 1/2 years after our golfing vacation.
However, the life of the cancer caregiver goes on and so does the diary. My involvement in caregiving started slowly and then quickly rose to a peak. Near the end, my caregiving had turned into a full time assignment. And then in an instant, it was over and gone. Nothing is in the control of the cancer caregiver. You just adapt to the current situation. The emotions of the caregiver fill the new void created by the loss of the patient – in this case my wife. Through the emails and the weekly blog, I hope to assist cancer patients and caregivers the world over in coping with this deadly disease.