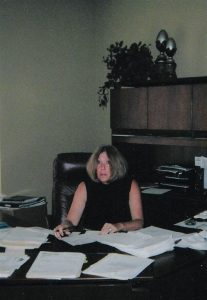 We traveled to Houston this past week on Tuesday. Sept. 6 to meet with Dr. Blumenschein on Wednesday Sept 7, Fortunately we had made our reservations with the Marriott earlier. When we arrived the hotel was full of people escaping the Hurricane Katrina disaster in New Orleans. We spoke with several people who did not know the status of their homes. All of the people we spoke with only have the clothes they took with them. Wow, we did not expect to be in the middle of this disaster but we feel for the people.
We both have been very nervous since the biopsy. We did not do as many outside activities during this period. We spent more time at home resting and trying to relax. Not an easy time. Unfortunately, Dr. Blumenschein confirmed that Diana's liver lesion was malignant. However, he was very optimistic – he told us that her lung was very stable. No signs of any new cancer there. The tumor in her lung was stable. The liver tumor was only 1.2 CM in size and there was only one lesion. He was pleased with Diana's overall physical condition.Dr. Blumenschein explained the options to treat Diana's new tumor. He explained again that over time cancer cells tend to build an immunity against a chemo being used – and that is what happened to Diana – her chemo – Alimpta – had done a great job of killing the cancer cells but finally some cancer cells built up an immunity to the Alimpta chemo and spread to her liver. Thus the new lesion on the liver. Dr. Blumenschein stated that we could change to a new chemo type. However, Dr. Blumenschein felt it was time to attack her cancer with new anti cancer drugs.
Dr. Blumenschein spoke to us about a new Clinical Trial that he hoped would open to new patients soon by the beginning of October Diana would meet the requirements and he felt the drugs being used would work well in her system. The new drugs are Tarceva – an approved FDA drug and RID001. Both are pills which will be taken orally Both of these drugs are designed to block tumor growth by targeting protein cells that are present on the surface of the cancer cells. The two drugs work in different ways to achieve their goal. Tarceva is approved for lung cancer treatment. RID001 has not been used for lung cancer treatment previously – it has however been used for other cancers. This is the first time the two drugs will be taken simultaneously by a patient.
Dr. B was very confident Diana could wait until early October to start a new treatment cycle. However, she was not guaranteed to be selected as only 6 new patients were to be selected. The trial is being conducted jointly at MD Anderson and Mayo Clinic. He had already submitted her name before our visit. Dr. B had us meet with the Research Nurse for the Clinical Trial. She explained the Clinical Trial procedures in more detail.
We arrived home late Wednesday night – actually early Thursday AM and received a phone call from the Research Nurse on Friday. The Clinical Nurse called to let us know that Diana had been selected for the clinical trial. She had a tentative schedule that will finalized in the next few days. It was good news. No more chemo and IV transfusions. Chemo is such a difficult treatment for anyone to endure. Now Diana will only have to take some oral pills and there is no nausea associated with them. There are of course possible reactions to the drugs.
Tentatively, Diana is scheduled to start on this new medication the week of Sept 20. We will have to be in Houston at MD Anderson for 2 weeks initially. During this period she will start to take the pills in a controlled manner. They will be monitoring her blood with a sample taken every 3 hours. We will then need to be at MD Anderson one day a week for the next 3 weeks. Once past the initial startup procedure – we will have a monthly visit with Dr. Blumenschein. CT Scans, etc, will be done every 2 months.
We are both pleased that the Clinical Trial opened early and that Diana will be included. At least the uncertainty of Diana's future treatment has been resolved. The clinical trial is very comforting to Diana. We are anxious to get on with the treatment. Diana is happier when she is getting the treatment. The thought of the cancer cells in her liver without any treatment is a little unnerving to both of us. We will be more relaxed once Diana starts the treatment process.
Prior to this past visit – I had discussed with Diana that we should discuss her blood pressure with Dr. B. Every time we go to MD Anderson – it is very high. We have been taking her blood pressure at home and it seems to have settled in the 130 – 140 range. Higher than it used to be. Anyway, we agreed to discuss her blood pressure with Dr. B.
Anyway – the nurse comes into the room and takes Diana's blood pressure before we see Dr, Blumenschein – we are all waiting for the blood pressure gauge to "pin the needle" – however, it only measures 126/88. Which is great. It figures, the one time we expected it to be high and it is low.
We relate the info to Dr. B and he says that Diana's blood pressure has been a little high from the beginning and it is nothing to be worried about. Later Wednesday afternoon – Diana got an IV of Zometa – a Calcium supplement that she usually got as part of her chemo. Since she did not have her last chemo treatment – she didn't get her Zometa. Dr. B wanted her to have it. We go to that portion of the clinic. A nurse takes her blood pressure again – standard procedure every time you go to a new area in the clinic – Diana was back to 145/94. At least we are not worrying about it as we were before this trip.
We have a week of rest while we prepare for our 2 weeks at MD Anderson. Her blood pressure has been in the 120/130 the past two days – really good.
Diana looks great. She has been coming to work for about 4 hours per day and really active. She is really doing well! And she is helping me get the records in order as we finalize the sale of her Company (unbeknownst to the employees of course.)
Thanks for your continued prayers and support.