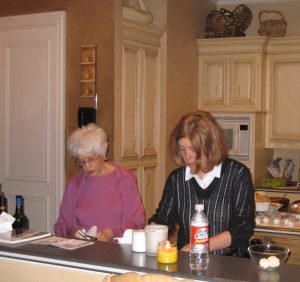 We visited MD Anderson this past week for Diana's scheduled tests and an appointment with Dr. Blumenschein.
Diana has been taking her new oral medicine daily – Tarceva for about 30 days now. Since taking Tarceva, her physical strength has increased. The pain in her shoulder, thigh and back have decreased measurably. At the end of each day's activity or project, it is now me requesting that we slow down and take a rest – not Diana. Good signs.
Dr. Blumenschein reported that all results were stable in the tests. Diana has also been taking her cholesterol medicine again for about a month now. Her cholesterol measurement dropped to 159 – the lowest it has been in many a year.
Dr. Blumenschein was very pleased with Diana's physical condition – said it was a great sign that the Tarceva appears to be working very well on Diana. He gave Diana a green light to proceed for another 30 days of Tarceva. He scheduled her next visit for the week of January 16, 2006. She will have another CT Scan at that time to measure the progress of the Tarceva.
While we were in Houston, we spent our free time looking at new houses of course. Diana has found a house she likes. Diana wants to build a house rather than buy one finished. She built our Frisco house working with an architect and contractor. This time, she has found a house plan she likes and we will work directly with the builder. Of course the plan will have to have some modifications to walls, etc to meet Diana's requirements. However, she is quite excited. It will take approximately 6 months to build and should be ready in June 2007. Traveling around Houston and looking at houses has been a good activity for our minds. We are thinking about MD Anderson 24 hours per day while we are here. It is really great to have something else for Diana to worry about – rather than her cancer.
It has been great not having to worry about Diana's business. I am still assisting the new buyer but spending much less time in the office and more with Diana. My focus has moved to selling the building that Diana's business was housed in. It is a 3000 sq. ft. building built in 2003 that we purchased new as part of a 30 unit free standing, single story, condominium business complex called Town & Country Park. It is located approximately 1 mile from our house across from Stonebriar CC in Frisco, TX. The buyer of Diana's business already has space in Addison, a town approximately 10 miles south and plans to consolidate his businesses in the Addison location by January 31. My next task is to get this building listed with an agent. We are both enjoying out time together. We are even doing errands together. With Diana looking and feeling better, We enthusiastically look forward to each day with our early morning walk.
In the meantime – we are looking forward to enjoying the Holidays this year. We will be putting our Frisco house up for sale soon – assuming we finalize the purchase of the new house in Katy TX. But it means this will be our last Christmas in our Frisco house where we have lived since 1990. Christmas will be a happy and sad time. Last year was a very depressing one. Diana had been just diagnosed. We really had no idea of what the future would be for us. Would Christmas 2004 be our last Christmas together? Those thoughts were in both of our minds at this holiday time last year. This year will be different.
This year, Diana's brother and his wife will be visiting for Christmas week. We will enjoy their company. We have a couple of short day trips planned. We also have an early New Year's Eve dinner reservation at a local restaurant planned with friends. We have a lot to be thankful for this year and will certainly enjoy the holidays best we can.
Thanks for your prayers and support. Have a Happy Holiday season. We are going to enjoy ours at home.