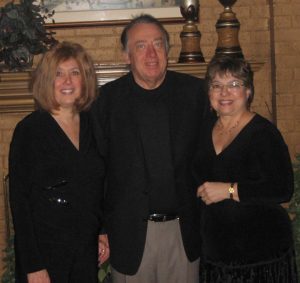 Christmas was both a joyous and sad time. We knew it would be our last Christmas at our Frisco house which we called home for 16 years. We took a day trip to the Gaylord Texan Hotel. It is a fantastic hotel – Las Vegas style – and has a replica of many parts of Texas landmarks such as the Alamo, San Antonio Riverwalk, The Palo Dura Canyons, Oil Derrick, integrated into a setting inside the hotel walls connected with walking trails that are lavishly landscaped. It is a great hotel and visitor spot. We spent a couple of hours just walking and eating at the hotel. While we were there, I met with their landscape manager. As many of you know, Diana has had a small waterfall and pool in our yard where she has raised Koi fish. She started with five about 7 years ago. There are now thirty fish in the pond – really too many for the size of the pond. So while we were at the Gaylord Texan, I made a deal with the manager to move 25 of Diana's fish from our pond to their Riverwalk. In return, they gave us several nights lodging and free meals at all three of their restaurants for two. The Gaylord would hire a company to move the fish at a date we agreed. Diana was quite happy knowing that her fish will be in such an elegant setting and one that we can visit in the future.
It has been a very busy time. Besides finishing up my support to the buyer of GT.com. I have signed an agent for the sale of our building. In addition, we had initial meetings with several real estate agents on the sale of our house. The house is in nice shape – Diana redid the kitchen and family room a couple of years ago. She ripped up the tile and carpeting and had the concrete stained. This is a finish you find more in commercial buildings but looks great in our house. One issue we have with the house is that we have cedar shingles for the roof. Lifetime for a cedar shingle roof is 20 – 25 years. This type of roofing material was very chic twenty years ago when we built the house. However, there have been some housing developments built with houses close together using cedar shingle roofs and with Texas winds, when one house caught fire for any reason, sparks were easily transferred to adjacent roofs which caused several houses to burn. So insurance companies no longer like cedar shingle roofs. Rather than put on a new roof that a potential buyer may not like, we have decided to include 50% of the cost of a new roof in the price and the buyer can select the roof the buyer likes. Our real estate agent suggested this and it sounds like a good idea. We plan to put the house officially for sale on February 1, 2006.
We drove to Houston on Monday for Diana's tests on Tuesday and appointment with Dr. Blumenschein Wednesday at MD Anderson. Our first stop was to meet with the builder and sign contracts on a new house that we would build in Katy, TX. Diana was excited and happy with the new house she had selected. The house had a "mother-in-law suite" (bedroom and sitting room with private bath) and a guest bedroom with private bath. Diana has been watching much TV as she is resting and has fallen in love with the HGTV designer's shows. We agreed – Diana said she wanted to work with a designer and I got the opportunity to say yes – that we would work with a designer on the house. As part of the negotiation with the builder, we wanted to take possession of the house prior to completion of the finish work such as painting, floors, tile, etc. We were also making many changes to the walls on the inside. We finally got agreement with the builder and signed contracts. Of course we did not have an interior designer selected so that would be our next goal on our next trip.
Diana had started on Tarceva – her new oral drug on Nov 11 after her previous CT Scan (on Nov 8) had shown growth of her liver lesion. Diana was taking a clinical trial drug at that time but because of new cancer growth Dr. Blumenschein stopped the clinical trial and started the new drug – Tarceva.
Needless to say – we were both a little nervous – in actuality extremely nervous – for the results. It has been six months since we have had positive results from her treatments. Diana has felt good and been very active for the past month. After Christmas, she caught a cold (from me) and a cough is still lingering. Otherwise, she has been feeling really good. Hasn't taken any pain pills in over 2 months (Previously she was taking 2 or 3 every day) She has had some of the expected side affects from Tarceva – most people have their face break out badly, Diana's hasn't, but she does have very dry skin. Another side affect is diarrhea – which unfortunately Diana has experienced. These side affects are minimal when compared to those that Diana had with the Chemo. (From my perspective that is, however, I am not having to deal with them.)
Anyway, we got great news from Dr. Blumenschein. The lesions (tumors) in/on Diana's liver and lung have shrunk substantially. We viewed her CT of Nov 8 versus her CT scan of Jan 17 side by side on a computer screen, In November, her Liver lesion was about the size of a quarter in diameter. On January 17, it was the size of the head of a ten penny nail. Substantially smaller. The cancer in her bones was stable and no new cancer was detected by the radiologist. Dr. Blumenschein was very pleased. Diana and I were ecstatic and had a very nice ride home. Finally we had something to cheer about. This past year has really been a time of ups and downs. We have had some pretty low downs and some pretty high ups.
Dr. Blumenschein is going to have Diana get a monthly infusion of Zometa – this is a drug to help strengthen her bones. She had previously been receiving Zometa at the same time as her Chemo treatments.It takes about 15 minutes for the infusion. However, it was too late to receive it at MD Anderson yesterday, so we will schedule her to get it in Frisco rather than stay another night in Houston.
Finally, our next appointment with D. Blumenschein at which time Diana will also get her CT Scan and associated tests (blood, x-ray, etc) will be in TWO months – mid March. Dr. Blumenschein said he will miss seeing Diana as often as he has in the past but is very pleased with her progress. Don't have the dates yet – should have them in a day or so. As soon as the appointments are scheduled, we will pick them up from the internet.
That means no update report from me until after our next visit to Dr. Blumenschein in March. The two month appointment time was such a boost for Diana. You would've thought someone gave her a million dollars from her reactions.
Thanks for your support and prayers. We really appreciate them