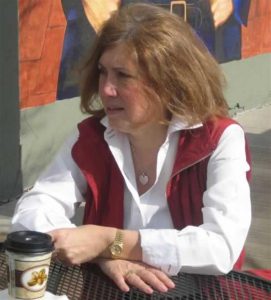 The two months since our last visit to MD-Anderson in January has past very quickly. During this time period, Diana has been feeling well and has been very active. We put our house up for sale the middle of February – so there has been lots of cleaning, sorting, etc associated with that task. Diana and I have been very busy with this task. Fortunately or unfortunately, the house sold within the first week it was on the market. We now have to vacate our house by April 7 – and of course the house we are purchasing in the Houston area will not be completed until mid July. We were not prepared for such a fast sale and – Yes we will be homeless starting in April. Good news that the house sold so fast but a new problem for me to solve – where do we live in the meantime.
We have also received interest from a buyer – from New York City – for our building. Yes I have been busy. As far as our short term problem of where to live, I came up with what I thought was a great idea. We could rent a vacation house on Galveston Island for 2 or 3 months and treat the time as if we were on vacation. Diana is not planning on taking most of our furniture to Katy – won't work with the design scheme she has. I thought it was a really good idea. I spent two weeks on the internet and telephone trying to line up a house to rent. I could not find one that met our requirements. Found a bunch that looked great, on the water, with a fishing dock, etc,. but it turns out this type of house is built on stilts – because e of the water and the stairs would not work for Diana's Mom.
When we first moved to the Dallas area 16 years ago, we rented a corporate apartment. A corporate apartment is a furnished apartment that you can rent for short term. Typically, when someone is moving because of business, they will rent a corporate apartment rather than stay in a hotel for 2 – 3 months. Once I gave up on Galveston, I turned my attention to a corporate apartment. After all, it was now mid March and we had to be out of our house by April 7. Diana's next set of tests at MD Anderson were scheduled to start on Monday, March 13. We drove to Houston early, departing on the prior Thursday, which would give us a few days to find a temporary place to live. By Saturday afternoon we were depressed and I was getting scared. None of the corporate apartments we saw would fit the bill. Diana and I went back to our Marriott room Saturday night shaking our heads. Not only were we exhausted from looking at 7 – 8 apartments, the thought of having to live in one of them for three months left us both depressed.
We woke up Sunday a little refreshed. I proposed a new strategy. Whereas we were not going to move very much of our belongings to Houston initially but put it into storage in Dallas until our new house was finished, let's look for an unfurnished house and move everything to Houston now. We would only unpack what we needed as we needed it. It would make for an easier move into our new house once it was finished. So we drove to the Katy area, where our new house was being built and drove until I saw the first Realtor office.
Diana stayed in the car and I went inside. I asked to see an agent. A very nice lady realtor came out and we went into her office to discuss my needs. I went into my sob story of our house being sold in Frisco and we needed a temporary unfurnished home for a couple of months. She took our housing requirements – clean, single story, clean, short term lease, clean, etc. and said she would call me later in the day. Anyway more on that saga later.
Diana had her Blood Tests, Chest X-ray and CT Scan scheduled for Monday. On Tuesday she received her monthly infusion of Zometa. Zometa is a prescription drug given to strengthen the bones by intravenous infusion (IV). Diana has been and will be getting Zometa every month.
On Wednesday afternoon we met with Dr. Blumenschein for her checkup and to discuss the test results. Of course, we were both quite nervous and concerned. Diana's blood pressure soared to new highs, but she won't let me report them here.
Dr Blumenschein gave us great news – On the new CT Scan, there was no evidence of any lesion or tumor in the liver! It was totally gone. If you remember the liver tumor arrived on the scene in August and grew in size each month until November. Diana started Tarceva in November and the liver tumor shrunk from the size of a half dollar in November to the size of the head of a ten penny nail in January. Now it was totally gone.
The tumor in her lung was stable – it is about 1.5 centimeters in diameter at this time It was a little over 2 centimeters when it was first diagnosed in Dec 2004. All other signs and tests were normal. Needless to say Dr. Blumenschein was pleased with Diana's response to Tarceva – the new drug she is taking orally daily and has been on since November.
Dr. Blumenschein was so pleased that he said Diana does not have to see him for 3 months – not until June 2006. Diana will be getting her monthly dose of Zometa in April and May – so we will be visiting the MD-Anderson Clinic in those months – but no other tests and no doctor visit until June. Wow!
The real estate agent we are working with in Houston called us as she said she would. Between appointments at MD Anderson on Monday and Tuesday we visited several houses that were for rent. We departed for Frisco on Wednesday hoping our realtor will finalize one of the houses we looked at so we somewhere to move and sleep in April. With the news from Diana's tests so good, we could probably live in a tent for the three months. Not really, but we were on a high for the drive back to Frisco. We had seen a couple of houses that would work – our agent needed to work out the details to our satisfaction. Once done we could sign a lease remotely and send her the deposit checks etc needed to fulfill the contract.
Our address and contact info will be changing soon. Not our email address nor my cell phone. Again, thanks for your support and prayers.