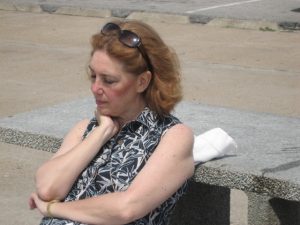 Well it has been almost 3 months since my last update. Time goes by fast and much has changed. We sold our house in Frisco at the beginning of April and we have moved to Katy TX, a suburb of Houston. We have moved into a rental house temporarily as we wait for the new house we have purchased to be finished. I have listed our new temporary contact information at the end of this email. Once we have a permanent address (around July 1) I will forward that information.
We moved all of our belongings to rental house. It is a single story, recently remodeled and with a huge garage. We have boxes all over the place. Two of the rooms (dining room and living room) are full with stacked boxes and packed furniture. All of the pictures are still packed – we agreed as part of the short term lease to not hang anything on the walls. A couple of days before our actual moving day, I drove one of our cars to Houston and put it into the garage of the rental house. I arranged for a taxi to pick me up and drive me to the Houston airport. I flew back to Dallas and Diana picked me up at the airport. Diana wanted to drive one of the cars to Houston while I drove the other one – but I did not want her to do that. I won this argument.
All else went smoothly with the move and closing of the house sale. The Gaylord Texan picked up Diana's Koi fish. We visited them before we left for Houston. Man, they must feel like they are in Paradise compared to the small pond in our yard. Diana was sad to see them go but happy with where they went. We received an offer to purchase on the building in April and completed the sale in late April. Wow. In nine months, we sold Diana's business, sold her building, sold our house in Frisco and have purchased a new home under construction in Katy TX – all while looking after Diana's health and treatments. Someone was looking out for us. It sure was a busy nine months.
We have been adjusting to our living in the Katy area. The rental house is only about five minutes for the house we bought. It makes it very convenient to keep tabs on our new house. Plus we are learning the area. We have made two trips to MD Anderson for Diana' Zometa – less than thirty minutes each way and we sleep in our own bed the same night. Pretty good.
Ever since we moved in the beginning of April, Diana has been complaining of more pain, mainly in her back. For the past couple of weeks, she has been complaining about head/sinus and neck pain. She (and I) have not been sleeping well. At first we were attributing the pain to the move and work associated with it. The pain has not subsided and new pain has been felt.
As a result, I contacted Dr. Blumenschein at MD Anderson by telephone – informed him of Diana's status and he decided to move her next scheduled tests and appointment to this week from the first week in June.
On Monday, Diana had her Blood Test, X-Ray and CT Scan. Yesterday afternoon we saw Dr. Blumenschein. Well, we got some good news and some not so good news.
The good news – no sign of any lesions in Diana's liver. As you may recall, those lesions were gone on the March CT Scan. Dr. Blumenschein was really pleased that none have returned. The liver still looks clean.
The not so good news – the lesion in Diana's lung showed small growth. The lung lesion grew from 2.1 cm to 2.5 cm since our last CT Scan in March. The lung lesion is now back to the same size it was in December 2004 when Diana was first diagnosed. In addition, there was some swelling of the adrenal gland – Dr. Blumenschein attributed this to a cancer lesion in or on the gland. Still small but obviously there. Since we have seen new lesion growth and a new lesion – means change of treatment again for Diana. Every time things appear to be going well, we hit a bump in the road.
Also for the past month Diana has lost her appetite. She also has not had as much energy as she normally had and has been resting more. About a week ago, Diana noticed a small bump (size of a half dollar) on the top of her scalp. Because of all of the above – Dr. Blumenschein is going to schedule Diana for an MRI of the brain and a complete bone scan. Both will be scheduled for next week. We will then meet with Dr. Blumenschein after he has the results of these 2 tests and decide how to proceed. There are several options for future treatment, including the possibility a new chemo like drug, called Avastin. Once her MRI and Bone Scan are completed – a decision will be made as to which treatment path to proceed. Diana has responded very well to her daily oral pill – Tarceva – since it has eliminated her liver lesion, Dr. Blumenschein wants to keep her on Tarceva while adding a second treatment. Avastin is the leading choice at this time but no decision will be made until after the new test results next week.
It was sure nice coming home yesterday. We finished at the clinic which is very close to downtown Houston at 5:45 PM – height of rush hour. We were at our house by 6:30 PM Quite a difference from our Dallas commute days which took 5+ hours each way plus nights in a hotel. Last night we slept in our own bed. Where we have moved is extremely convenient to MD Anderson.
Besides the above – Diana has been very busy finalizing choices for the new house. She has selected an interior designer to work with in finalizing colors, etc. We have only opened about 10% of the boxes that were packed and moved – essentials only. Likewise, with the furniture – most of it is piled and stored in the house and garage of our rental house. No more will be unpacked until we are in our new house. The designer has taken several pieces of our furniture that Diana is going to keep in the new house. The designer is going to paint or recover to match the color scheme. Those pieces will be ready when the new furniture arrives. My computer is set up on stacks of boxes – not pretty but at least functional. For clothes, we are basically living out of the suitcases we packed. We haven't opened any packed clothes. Walking through our house is like traveling a maze made out of packed boxes. Oh well, it will be over soon.
Again – thanks for your support and prayers. It has now been 18 months since Diana was first diagnosed. Your prayers and support have help us through this tough period in our lives.