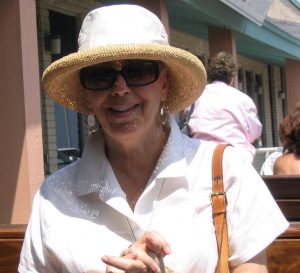 Well,a short two weeks any many trips to MD Anderson have occurred. It is so much easier now that we are in Katy. If we were still in Frisco, I don't know how we would've made all of these trips.
Last Friday, we went to MD Anderson and Diana got her CT Scan, x-ray and blood tests completed. Yesterday, we went to the Pain Management Center – FYI the doctor we saw did her residency at the UMass Medical Center in Worcester, MA. (Diana's hometown for those that don't know). Well, the Pain Mgmt. Center doctors think that Diana's nausea sickness was caused by a reaction to the pain medication she started to take on August 2.
Needless to say – they changed all of Diana's medication – she is now wearing a patch for pain relief which must be changed every 3 days. We will see how that works – she has had the patch on for only a couple of hours today so we don't know how well it will work on Diana. I am happy for the patch. Diana was always hesitant to take a pain pill – even when she was in lots of pain. She was concerned about getting addicted. With the patch, there is no choice and it is supposedly an even distribution over time of the pain medication. Diana's dosage level is very low and can still be supplemented with oral pain pills if necessary.
Finally – today, September 6, we saw Dr. B. He told us that the CT scan was all good news. Diana's lung tumor shrunk to about 50 % of the diameter (2.5 CM) it was in June. There was no signs of any new cancer. Dr B was extremely pleased with what he saw. I think both Diana and I were too stressed to enjoy the news. Although I sure am glad it was good news, I doubt that either of could have handled any bad news very well. We were both stressed to our limits and Diana was so weak physically. It appears of the latest chemo helped control the cancer but it sure has taken a toll on Diana's physical condition. Six chemo treatments in a span of eight weeks was tough, extremely tough.
The week prior to Labor day, we had our first over night guests at our house. Diana's brother and his wife drove down from Wichita KS for the week. One of the days while they were here, we all took a day trip to Galveston Island. It is about an hour ride. We walked on the beach sand for five minutes, ate lunch and drove back home. It was nice seeing the ocean. Living in Dallas all those years, you miss seeing the water. This short trip really exhausted Diana. It was the only day that Diana went out – except for trips to MD Anderson while they were here.
Otherwise, Diana spent almost all of each day in bed. I have taken on all of the household chores – wash clothes, dishes, change bed linens every two days, food shopping and cooking. I used to assist Diana with making the bed occasionally in the past. She was always so particular and I never did it right – so she would end up getting mad at me and doing the task herself. She is not complaining now. She enjoys having a fresh bed and I have lots more experience now – so I do a better job I guess. Diana's Mom is helping with the food shopping and cooking. The house is finished except for the kitchen backslash. We are working with the interior designer to finalize the pattern design and tiles to use. Diana has selected some tiles for the designer to work with. Once the design is completed I will purchase the tiles and get the tile man in to finish the job.
All else is well here. In the meantime – thanks for your support and prayers.