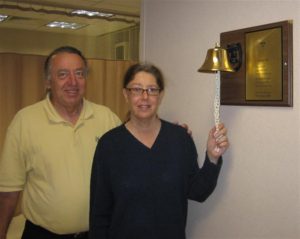 It has been a short 2 weeks since my last update but lots has happened.
Diana finished her radiation treatments on her brain yesterday. We met with the radiation doctor – Dr. Bucci yesterday also. Well Dr. Bucci said that Diana graduated from her radiation treatments with honors. After a very rough start – normal time for a jolt of radiation is 10 or 15 minutes – Diana's was taking 40 to 45 minutes – her mask did not fit quite right and it was a problem lining up the radiation machines so the radiation would intersect at the correct points inside her head and attack the proper layer. The radiologists were taking many x-rays to get the correct alignment before they could start radiation on Diana. Meanwhile, Diana was strapped to the table with the mask pressing against and holding her head from moving the entire time. Finally after 3 treatments – the alignment issues were resolved and the last 7 treatments went smoothly and fast.
The good news – Diana has much less pain in both her back and head. She is very fatigued. Has spent all day in bed and dozing except to get up for the trip to MD Anderson. Immediately upon our return, it has been back to bed.
Last week Diana also had a frontal CT scan. We met with Dr. Blumenschein last Wednesday and the results were – Small growth from 1.6 to 2.0 cm of her tumor in the lung. The tumor has reappeared in her liver and is about 2.5 cm. Not what we wanted to hear. Other than that – Dr. Blumenschein reported that Diana really doesn't have that much disease in her body. They saw some new spots but some old spots were gone. Pretty good news.
Dr. Blumenschein was concerned about Diana's fatigue. It will affect her ability to receive future treatment unless she can gain strength back. Diana's weight is now about 126 pounds. Her weight before cancer was 135. She peaked at 152 pounds – gaining weight while she was on steroids which she took last winter. The steroids made her ravenous and thus her weight gain. She was upset but Dr. Blumenschein was happy. He is not pleased with her current condition. So he scheduled Diana to see a Symptom Care Specialist. This makes Specialist Doctor number 10 that Diana has seen at MD Anderson. We met with him – Dr. Yennuralingam – if you can pronounce his name correctly you go to the head of the class – on Tuesday of this week. He examined Diana and has put her on a new drug – Ritalin. He is confident this will help. We see him again next Tuesday.
So – as we proceed through this month – Diana is phasing off of the steroids – reducing the dosage over a 2 week period. She was taking them during radiation treatment. Adding a new drug Ritalin. And we have several new drugs to assist with nausea. Diana is currently on ABH – a drug that is contributing to her fatigue but eliminates all of her nausea problems. Now that radiation is finally over, we are going to see if we can get her off of ABH. Every time we have tried to reduce the dosage of ABH in the past 2 months, the nausea returns. We have now been successful in reducing her dosage from 3 to 2 pills daily with no nausea symptoms. We will continue to lower the ABH dosages – hopefully without any nausea.
Finally – Dr. B has scheduled Diana for a new brain MRI and CT scan on Dec 4. We will see him on Dec 6. His goal is that Diana will be strong enough to start a new clinical trial at that time that should open in the next 2 weeks. It is a trial where they will perform a biopsy of the liver tumor and depending on the findings – they have 4 different targeted drugs (like Tarceva) that will be given to each patient. These are non toxic drugs unlike chemo. Diana would have a biopsy of the liver tumor and then would get one of the targeted drugs to take daily. Hopefully, the clinical trial will get final approval and open for patients. He has already submitted Diana for the preliminary list.
Lastly, I don't have to wear a hat yet. Although Dr. Bucci said yesterday that I definitely will have to wear one in the next 7 – 10 days. Diana has been losing a small amount of hair when showering and combing – but….no hat yet. For two years Diana has lived under the expectation of losing her hair because of chemo. This is a case of mind over matter. Diana does not want to lose her hair and she hasn't so far. She has beaten the odds with chemo, can she do the same with radiation. Stay tuned. As you all know – in case you don't know I will tell you – Diana's hair is very important to her. She does not want to lose her hair, but…
Thanks for prayers and support. Diana and I both really appreciate your efforts.