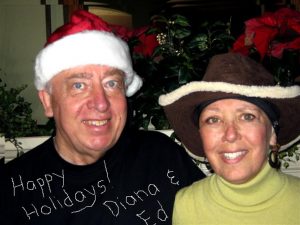 Our previous update was sent just as Diana had finished radiation on her brain in the beginning of November. Immediately after my last email, Diana's hair started to fall out in gobs. She was getting very upset. it became obvious to me that we needed to visit a hair salon. On a quiet Tuesday morning, we did visit the Sports Clip salon – where I have gone in Katy previously – and both of us had our heads shaved. I went first and Diana got several pictures of me – we brought our camera to document the event – I lost my pony tail. However, when it became Diana's turn, you could see and feel the sorrow she was going through. I think if given the choice at that time – she would rather suffer with her cancer than lose her hair. Diana's Mom came and watched. Even she was in tears for Diana as her hair was being shaved off. No one shed tears when I lost my hair – we all laughed. What to do when we were done at the salon? We went shopping for hats. I have attached a picture of what we found – Diana in her Texas cowgirl hat and me as a Santa helper. It is hard to tell from the picture but yes, we both are bald.
The radiation has really fatigued Diana and it has been a very hard month.
We celebrated Thanksgiving at home with Diana's Mom. Ordered a precooked turkey and stuffing as well as a pumpkin pie from Luby's – a Texas cafeteria style restaurant that also sells a ton of precooked turkeys and pies on Thanksgiving. I picked up the turkey, stuffing and pie Thursday morning at 9 AM along with the 100+ others who had ordered the same – we had to finish cooking the turkey for another 2+ hours once we got home. We cooked our own veggies and had a nice Thanksgiving dinner.
On Friday, Diana and I drove to Gruene (Pronounced Green) TX – about a 2 hour drive from our house in Katy – and spent 2 days in the Gruene area on a getaway vacation. It is a small German heritage village town and was all decorated for Christmas. We stayed at a great bed and breakfast – the bed and breakfast had a game room with shuffleboard and pool table – both of which we played and Diana beat me at both of them. I don't know where she learned to shoot pool – it wasn't from me. But I guess once you get the hang of it you never lose it.
This was the first time Diana was out of the house since the end of her radiation. Although she tired easily each day – we rested both afternoons and had a great time just puttering around the small village in the mornings. After breakfast on Sunday, we drove home. Diana would feel every small bump in the road in her bones. We were on an Interstate most of the way but there are still small bumps. As we walked around the village or went to eat, since we were both wearing hats no one was staring at Diana – they were looking at us – she did not mind going into public with a hat. Diana was really concerned that people would be staring at her. When we dressed her in her cowgirl outfit, tan coat, white crew neck sweater, jeans and cowboy hat – she got a ton of compliments. More than when her locks were flowing. That really pleased her. By the way, I never did receive a compliment for any of my hats or outfits.
Diana was still very fatigued once we arrived home and spent most of the week resting in our house. Finally on Sunday of this past week, she slowly started to get back some of her strength. She got up at 6 AM on both Monday and Tuesday and helped with breakfast. It was great to see her cooking in her new kitchen. She was enjoying herself. Great signs.
On Monday, we went to the MD-Anderson clinic for her X-ray, blood test, brain MRI and CT Scan, On Tuesday we had an appointment with a different doctor at the clinic who is helping with her fatigue. He was pleased with the progress Diana had made from our last visit him about 4 weeks ago.
Yesterday, on Wednesday, we met with Dr. Blumenschein to get the results of the Monday tests. Unfortunately, we did not get good news.
First, Diana's lung and liver lesions both had small growth. This we expected since she has not had any treatment medication for those lesions since August. The lesion on the adrenalin gland remained the same size. However, the brain MRI showed five new lesions – four of them 1 millimeter in size and one 7 millimeters in diameter. All of them are very small but all are new and in an area of the brain that had not received radiation. Dr. B and the radiologists reviewed the old MRI's to make sure the lesions had not been missed on an earlier MRI. However, there were none to be found on the old MRI's. Needless to say we were devastated. For me, I assumed that the Leptomeningeal was now spreading. Boy was I upset. Diana accepted the facts and started quizzing on new treatment options. Man, she is mentally strong to accept what is and has happened to her. I love her so much and just wish I could do more.
MD-Anderson has a radiation process called Stereo Tactic Radio Therapy – which is a very targeted radiation process consisting of one application and the radiation is very pinpointed to brain lesions. The radiologists are meeting today and will review if Diana is a candidate for that therapy. Dr. Blumenschein does not think she will be a candidate for this treatment but will wait for the radiologists consensus decision.
Regardless, Dr. Blumenschein is going to have Diana take a total of 3 chemo treatments – one every 3 weeks starting on Dec 20 using the chemo drug Taxtare. There was an alternative therapy available whereby MD Anderson would infuse chemo directly into the brain but we all decided against it.
Until yesterday, we had planned on Diana starting a new clinical trial that had just opened in November and uses targeted drugs based on the DNA of your cancer cell. However, having a lesion on the brain makes Diana ineligible for that clinical trial and makes Taxtare chemotherapy the regimen of choice. Dr. B is delaying the start of the chemo for 2 weeks in order to give Diana time to regain more strength.
For the past several days, I go find a quiet spot in our house – usually the garage – where I can be myself and have cried my eyes out. The emotion and stress of the latest events happening to Diana are very tough for me to handle. Of course, I do not show any of this emotion in front of Diana. I just wish there something I could do to change the situation. I really do not want to believe this is all happening and has taken the turn it has.
Well, we both feel a little better today as we await the call from the radiologists. In the meantime – Again, thanks for your prayers and support. I have attached a little Christmas and thank you message from us. We wish we could personally deliver the message with a big hug to you all but….