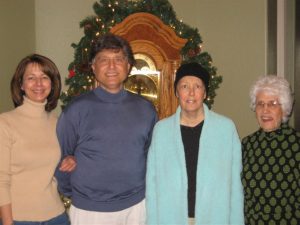 It has been more than 6 weeks since my last email update. It has not been a good time for us. Diana has been very fatigued and resting most of each day. In addition, the weather in Houston has been very cold and rainy every day. It makes you feel dismal even at the best of times. Diana completed two treatments of the new chemo – Taxotere . The first treatment was on Dec 20 and the second on Jan 10.
After the first treatment on December 20, Diana spent most of her time in bed resting. Christmas was not very joyous for us this year, Diana's brother and his wife visited us for about seven days arriving on Christmas eve, Diana ate Christmas dinner with the family at the table but once finished was quickly back to bed resting. Diana did not get dressed and stayed in her PJs and just wore her bathrobe over the PJs. Just about the time Diana got over her fatigue it was time for the next chemo treatment. Diana needs assistance to get up out of bed now. That is my new job along with helping her take a shower and dress. I get to select the clothes she will wear when I help her get dressed and she doesn't even complain about my choices. I try to only put clothes together that I have seen her wear previously. Diana is happy for me to help and doesn't even complain about my choices. I know that when she doesn't care about how she looks, she really doesn't feel well. The only thing I cannot do well is her earrings – pierced – I cannot get them thru the holes in her ears. So we don't always wear earrings.
We celebrated New Year's Eve by going to The Galleria Mall in Houston. About a 25 minute car ride from our house in Katy. We walked through a few stores. Had our New Year's Eve lunch at a restaurant in the mall and came home. Diana enjoyed being out amongst people. We went home and watched the celebrations on TV and went to bed early. At least we went out on New Year's Eve. It was good exercise for Diana.
On Jan 10, Diana had her second treatment of Taxotere. We arrived at the clinic late morning for blood tests and an x-ray. Dr. Blumenschein was net and he gave Diana the green light for her second treatment. At Diana's December 20 treatment, the nurse brought in all of these extra medicines – sort of scared me a little at the time. Once that nurse started the chemo infusion, she stayed with Diana for the first ten minutes – checking her vital signs every minute. I finally asked her what was she doing? This procedure had never occurred for any of Diana's previous chemo treatments. The nurse told me that occasionally patients have a reaction to Taxotere and what she was doing was precautionary just in case. She told me it was the normal operating procedure they followed when administering Taxotere.
Back to January 10. Finally around 7 PM Diana was called for her chemo treatment. For this treatment the nurse did not bring in any extra medication. Diana had the IV inserted and started with saline and steroids at 7:30 PM. I asked the nurse what time would the chemo start? She told me at 8:05 PM. Since we had been at the clinic all day and had not eaten since lunch,I went downstairs to the cafeteria for some water and goodies at 7:50 PM for Diana to munch on once we were through with her treatment. I wanted to be back before the chemo started since the nurse on the previous treatment had made me a little scared of Taxotere. I returned to Diana's room around 8 PM, five minutes before the chemo was to start. When I came back to the second floor area and approached the room Diana was in – I could see through the doorway that Diana's face was as red as a beet and obviously she was very uncomfortable. She wasn't communicating or moving. I raced to the central nursing station and grabbed a nurse. This nurse immediately stopped the chemo – put Diana on oxygen. Raced out and got some new medication. She started to infuse the drug benedryl to counteract the reaction. The nurse called the on call Doctor to Diana's room. The doctor appeared very quickly. And they finally got Diana stabilized. Diana had had a reaction to the Taxotere. I found out later that when the second nurse got to Diana, Diana's oxygen level in her blood was down to 90% – very low. The original nurse had started the chemo infusion automatically – ten minutes before she told me it was to start. And to make matters worse, she had gone home because of shift change and left Diana unattended for the start of the chemo infusion. I was both extremely grateful for the quick action the nurse that I found had taken extremely furious at the nurse who violated the hospital procedure for administration of Taxotere.
About 9:30 the nurse with the doctor in attendance deemed Diana as fully recovered and started the chemo Taxotere again. There were no problems this time as they slowed the rate of fluid into Diana's blood system. We got home at midnight after arriving at the clinic at 11 AM. Diana felt fine. I was still shaking. I can still see the image of her red as a beet and unable to move or talk in my mind and it is three weeks later. I was very upset and would have been too emotional to speak to MD Anderson about the incident the following day, Thursday. So I waited until after the weekend – a few days had past and then called and reported the incident. I did receive a call from the nurse's manager apologizing for the incident that should not have happened. Supposedly because of confidentiality laws, she would not tell me if any action was taken against the nurse. She did say the incident would not happen again in her department. I was quite disappointed at how my complaint was handled. I did not let Diana know that I was filing a complaint about her reaction to Taxotere. It would have been one more thing for her to worry about and she did not need to have that burden.
Diana has spent the best part of the two weeks after her treatment in bed. Last Friday January 26, Diana completed a new series of tests – CT Scan, MRI Brain, X-rays and blood tests. We spent the weekend home resting. Yesterday, January 31, we met with Dr. Blumenschein for the results of her tests.
Unfortunately, the news we received was not good. The tumors did not respond to the chemo Taxotere treatments. The tumors (3) in Diana's liver grew by approximately 25% since early December – the time of her last CT Scan. The tumor in her lung had smaller growth – but it too had grown Diana was scheduled for another round of Taxotere chemo yesterday, but that was cancelled by Dr. Blumenschein. It is so depressing to go through all the pain and suffering associated with a series of chemo treatments only to find out that they did no good.
Dr. Blumenschein thinks that Diana is in too weak of a condition at the present time to continue with any treatment. We decided to not give her any treatment yesterday and give her an additional week of rest. He wants to see if the fatigue is related to the past chemo treatments. He wants to see if her physical condition improves this week. We are all hoping that her strength increases so she can proceed with some treatment. Diana is scheduled to see Dr. Blumenschein next Wednesday February 7. Dr. B. will recommend how we proceed at that time based upon seeing her physical condition.
Unfortunately, in Diana's current physical condition she is not eligible for most clinical trials. Since clinical trials are attempting to get a drug approved, the sponsor wants patients that have the highest chance of success which rules out potential patients such as Diana who are in weakened conditions. There is a double whammy here. The chemo did no good cancer wise and it weakened Diana's overall physical condition which rules out additional treatments until her condition strengthens. Plus time is lost. Bad, bad and more bad.
It is sad that cancer treatment decisions are so hit and miss. Doctors do not have sufficient information in selecting treatments for patients. It is all gut feel rather than detailed clinical data about the patient. I am an engineer by schooling and training. I guess my mind works differently. However, it has been pointed out to me many times, cancer research is being controlled primarily by the pharmaceutical companies who are searching for control medicines and not cures.
Needless to say but we are both devastated at the results of this weeks test results. Diana still wants to fight the disease. I am continuing to investigate alternative treatments. It is very obvious that Diana is too weak for any toxic medication which rules out any new chemotherapy. We have been tracking Diana's weight and she is losing weight. She is not eating well. During the month of January, Diana lost about 4 pounds. She now weighs 121 pounds. We have been monitoring her weight every day and hope to stabilize it. Continuing weight loss is not a good sign.
Thanks for your prayers and support. We really appreciate your efforts.