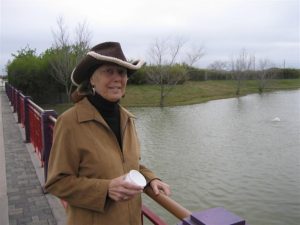 Time flies. Seems like yesterday that I last wrote to you all.
However, in the meantime, we have been very busy here in Katy exploring treatment alternatives for Diana. Diana has not gotten any stronger in the past three weeks. She continues to be very fatigued and now spends most of her days resting/sleeping in bed. She is also eating the majority of her meals – what little she is currently eating – in bed also. We are now feeding her mostly soft, easy to swallow foods. We started feeding her in bed as a treat for her – Diana does like to be waited upon. But now, it is too difficult for her to get up and come to the table. Mom and I take turns feeding Diana. For some reason she eats more from me than her mother. Out of house trips are limited to the doctors and clinics. It is too exhausting for her to get up and move around. Diana weighed 113 pounds yesterday – down from her fighting weight of 133. While she was on steroids during one of her chemo treatment cycles, Diana peaked at 150 pounds.
We had an appointment with Dr. Blumenschein yesterday. After much thought and discussion between Diana, me and Dr. Blumenschein – Diana and I have made a decision to try an alternative treatment – TCM (Traditional Chinese Medicine) rather than proceed with an MD Anderson Clinical Trial. The side effects and risks associated with the MD Anderson Clinical Trial called "Battle" – are too high – especially for anyone in the physical condition that Diana is at this time. Dr. Blumenschein is in total agreement and is supportive of the decision. In fact – I think he is going to visit an acupuncturist himself because of what I will write about later in this email.
I flew to Orlando FL two weeks ago to meet with a Chinese acupuncture and herbal doctor. I left our house at 6 AM and returned home late that evening. He was referred to us by a friend of a friend. The person he is treating has Stage IV pancreatic cancer and after a couple of months of treatments, the pancreatic cancer has gone into remission. I spent about 3 hours with him. He opened my eyes to this type of medicine. The difference is in our western medicine whereby a doctor tries to find the cause of the problem before trying to cure and/or fix. In Chinese medicine the philosophy is to strengthen the body and the immune system in the area of the body where the problem exists and let the body fight the problem. Don't try to find the cause. It took me a little while ( remember I am an engineer) to understand the concept – but once the bell went off, it rang hard.
The Chinese doctor i visited in Orlando showed me several video tapes that he had made of his patients. The tapes showed the patients in his office – at the start of treatment, during the treatment process and final result. Several of the tapes included news clips from local and national TV News broadcasts that had picked up the story of that particular patient. If I was not sitting in his office – I am not sure I would not have believed what I saw on the video tapes.
One was of a pregnant lady – 4 months – diagnosed with breast cancer. Both her oncologist and gynecologist wanted her to have an abortion so they could treat her tumors with chemo and radiation. She did not want to have an abortion. The Chinese doctor treated her with acupuncture and Chinese herbs. The video showed her at 4 months pregnant, 6 months, 8 months the mother & baby at 6 months and now showing them both as the baby is now 5 yrs. old. The mother is still fine – no sign of cancer,
Another was of a teenage boy who was confined to a wheel chair for 5 yrs. Lots of clips of the boy being treated in the Chinese doctor's office, followed by a TV News clip (CBS Local Orlando, FL station) showing the boy walking across the stage at his high school graduation to receive his diploma and his classmates sitting below all cheering wildly.
After seeing 5 different patients (not all cancer) I was shaking my head. The patients were not all cancer patients and he kept reminding me that he does not treat cancer per se. He also kept reminding me that not everyone responds to every treatment. But he did show me many success stories.
Chinese medicine and acupuncture do not work on everyone either – but typically the percentage is much higher than the success rates for chemo. Chemo ranges in the 10 ,- ,20 % success range – TCM is in the 50 – 86% range – of course depending upon the disease and stage of disease.
After arriving back in Katy – I told Diana about my trip findings. She was game to move forward and try acupuncture and Chinese herbal medicine. I did not want to subject Diana to now getting treatment in Orlando FL So we did some home work here.
First – I called an acupuncturist clinic in Houston to make an appointment for me. I have had back pain forever. I mainly wanted to see and feel the process that we would be subjecting Diana before making any appointments for her.
Well I have had 4 acupuncture treatments with a 5th scheduled for Friday. My back has improved and is continuing to improve. I am continuing to go to the acupuncturist and taking my herbal supplements.
We started Diana on acupuncture at MD Anderson last week. She has now had 3 treatments. We also were exploring doing some alternative treatments with MD Anderson doctors but closed the door on any possibilities of any alternative treatments at MD Anderson today. MD Anderson is doing much research in China but they are not allowed to use any of those methods on patients here because of FDA approval. After much investigation and networking, Diana is starting with a new acupuncturist/herbalist on Saturday.
Houston has a large Asian population and the American College of Acupuncture and Oriental Medicine is located here. The Doctor we will be seeing – at her private practice – is the Dean Of Clinical Training at the college. For anyone interested here is a link to her bio page
http://www.acaom.edu/en/cms/?945
Dr. Yanfang Liu
Dr. Liu (she) will be working in telephone consultation with the Chinese doctor I visited in Florida.
Diana has also started taking a herbal tea which we brew from the natural roots and herbs The tea is a version of Essiac Tea – so named for the nurse that had great success using her version many years ago. There are many varieties available in food stores, internet etc. However, many of them are fakes, just ripping off the public. One of our friends knows someone who is having good success fighting her cancer with Essiac Tea and she has provided me with the manufacturing source where we purchased their version (Thank you Colleen). Diana has been taking the tea for about a week – too early for any indications of success or not at this time.
Since Diana will not be receiving anymore treatments from Dr. Blumenschein at the clinic at this time – Dr. B wanted to set up hospice to visit Diana at our house. We are in the process of getting hospice set up. I have not heard from them yet but expect to do so in the very near future.
Diana will continue to meet with the Palliative doctors at MD Anderson in the future but we have no new tests or treatment scheduled at this time.
Lastly, Dr. Blumenschein put Diana back on steroids to help her gain some weight. We will also be feeding her Ensure protein supplements twice per day.
Thanks for all of you support and prayers. It is a very trying time for Diana and me and we really appreciate your prayers and support.