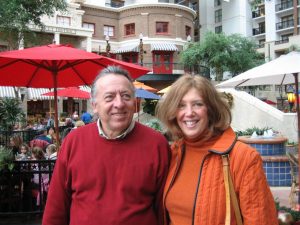 I have been writing emails regarding Diana's progress in her fight against lung cancer since she was diagnosed almost 2 1/2 years ago. My emails have provided not only updates on tests taken, doctor visits, treatment options, medicines and test results, but the emails have been written expressing the emotional feelings of both Diana and I at the time of my writing. Not that I wanted to include our emotions but they just got expressed as I wrote the emails.
I am having lots of difficulty writing this email. I have no new tests or test results to report nor are any new tests scheduled for the near future.
Hospice is now sending its nurses to see Diana twice per week. We now have an oxygen machine, oxygen tanks, wheel chair and a walker as equipment in our house. It is a very sad sight to walk around the house and see these items.
The past 3 weeks have been a very different emotional time in our lives. I feel like we have been on a very fast roller coaster ride for the past couple of years. We have had many emotional highs and some emotional lows. Where I find us now is that there is not much new to describe to you – much like you feel when the roller coaster car that you are riding in is gliding to a stop.
Diana is still getting 2 acupuncture treatments each week at MD Anderson and seeing Dr. Liu ( Chinese Doctor herbalist ) once per week. We (Diana's Mom & I) are brewing the herbal teas daily. The herbs being used are changed weekly and given to us by Dr. Liu (Chinese Doctor). Diana is taking a cold herbal tea twice per day (morning and bedtime) and hot herbal tea twice per day (mid morning and mid afternoon). She is also taking some herbal capsules 2X per day.
Diana's Acupuncturist at MD Anderson – Dr. Garcia – is unbelievable. She is treating Diana as one of her own. I am in communication with her several times per week via email or cell phone. She sent me an email last Friday around 3 PM asking me a question. I hadn't checked my email Friday afternoon and at 4:15 my cell phone rang. It was Dr. Garcia – she told me it was getting late on Friday and since she hadn't received an email reply from me so she was calling. Dr. Garcia is mainly in research at MD Anderson. MD Anderson has a full time acupuncturist. However, the full time acupuncturist had broken her wrist and Dr. Garcia was covering for her when we first started to look into acupuncture. Well, the full time acupuncturist is now back to work at MD Anderson. However, Dr. Garcia is going to continue to treat Diana. We are making special appointments directly with her each week. She is great and Diana really likes her. I really feel blessed to have Doctors such as her looking after Diana.
Diana is very weak and in lots of pain. Her pain patch which is changed every 3 days has been increased from 25 to 50 mg. She needs assistance getting up and down from bed. She is barely able to walk with assistance from the bed to the bathroom. Her weight is down to 107 pounds and she is not eating very well. We are feeding all of her meals in bed and it is a tough task to get her to eat more than a bite or two of any food that we prepare.
I am giving Diana a daily shower and dressing her on the days we have to leave the house. Else she just wears her PJs – which we change a couple of times per day. I went out and found some easy on/off comfortable cotton tee shirts and pants that she wears as her PJs. She perspires quite a bit and we usually will change her shirt a couple of times during each night. Can you believe it – I never thought I would ever see the day that Diana would let ME – yes ME -buy clothes for her. Our shower has a tiled bench seat inside and I have installed a shower head on the end of a long flex hose – so I can give her a nice shower while she is sitting in the shower. i now take 2 showers per day – my normal one first thing each morning and secondly when i give Diana her shower later in the day.
The car rides to and from the clinic are very difficult and painful on Diana. She feels every bump in the road in her bones. It is a very tough trip for her. Houston roads are not quite as bad as those in New England but they are much rougher than the Dallas area.
For the past month or two – Diana has had no feeling in her lower lip/jaw. All of her liquid consumption is through a straw. Dr. B attributed the problem to some nerve damage when Diana had radiation treatment. Well, now Diana is losing the mobility of her right arm. Once it is stretched out or hanging at her side, she cannot lift it at the shoulder or bend it al the elbow. Again – talking to the Dr, B – there is nothing that can be done. We are exercising the arm and joints daily. She can still squeeze her fingers. We are giving the arm much exercise therapy each day. And Dr. Garcia works acupuncture on the arm every visit.
We are both still committed to fighting this disease. There are times when it doesn't appear as if we are winning or even have a chance of winning. It is not an easy task to continue to fight, but we are proceeding forward and continuing the fight the best we can. We have not given up or lost hope. Diana is not giving up. We have her next acupuncture scheduled for Friday afternoon, April 6.
Needless to say – but we need your prayers more than ever and we appreciate your support.