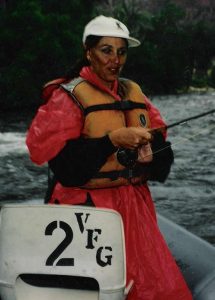 We have been draining Diana's Pleural Cavity daily for the past 3 weeks. Diana is still speaking to me which means that I am doing a good job. The first week home we drained approximately 200 Milliliters of fluid each day. The second week, the level went down to an average of 150 ml per day. This past week the level dropped again. On Thursday (4/14) we drained 90 ml. On Friday 75 ml. We skipped Saturday ( 2 days in a row below 100, so the procedure calls for draining every other day once you are below 100 ml 2 consecutive days). Today, Sunday we only drained 30 ml – even after 2 days accumulation since we skipped Saturday. Today was kind of a milestone – only 30 ml after 2 days of fluid collection. We were both excited. Diana had gone below 100 ml 2 days in a row once before last week. We skipped a day at that time. However, the next day we drained 150 ml. As Dr. Blumenschein said – this is a good sign. I am getting very good at the draining process. We have only messed up once or twice with the vacuum sealed bottle that helps draw the fluid from her pleural cavity assisted by gravity.
We drove to Houston on Tuesday April 12. Diana had her blood test Tuesday night Her appointment with Dr. Blumenschein and her chemo treatment at MD Anderson were on Wednesday & Thursday (4/13 & 4/14) of the past week Dr. B was pleased with how she looked and her blood test results. Dr. B was really pleased that the fluid level was decreasing. He was not anxious to remove the Pleural catheter and will probably make Diana keep it until our next visit. As a result of all the tests he decided to continue with the Alimta chemo treatment. Thus Thursday afternoon, Diana had her next chemo treatment.We spent Thursday night in Houston at the Marriott. We finished her treatment at 6:30 PM. Too late for a 5 hour ride. Spent the night in Houston and left the next AM Diana was fine on Friday – the day we returned to Frisco from MD Anderson. Saturday she was also up and a little active – but tired very easily.
Dr. Blumenschein prescribed a new anti-nausea medicine for Diana to take this time. She started on the medication Thursday morning before receiving her chemo treatment. So far it appears to be working better than any other anti-nausea medicine that she has taken previously,
This morning(Sunday 4/17), she didn't feel well and is extremely tired. She got sick for the first time around noon today. Although her reaction to the chemo is kicking in as expected – usually 2-3 days after the chemo treatment – she is much less sick this time than she was with her last treatment. Hopefully, this will only last a day or two, and Diana will be feeling better again.
Diana's next chemo treatment is scheduled for May 4, She will have tests on May 2 & 3 to measure progress of this new chemo against her cancer tumors. We will meet with Dr. B on 5/4 prior to the chemo treatment.
Diana has been busy looking at clothes (in catalogs) that she will need to get for her Queen's Quest Golf Tournament. She needs an outfit for the theme party on Tuesday and she and her partner will dress alike for the tournament. She has been feeling better and is still convinced she will play golf in June. I certainly do not discourage her. Secretly, I am hoping that she does get to play golf. It would be huge mountain for her to climb. The odds look better each day. Maybe I should have placed my bet when the odds were higher.
Thanks for all of your support and prayers.