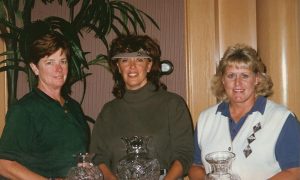 On Tuesday January 4, 2005, Diana and I departed from our Frisco home via our car on our first trip to MD Anderson in Houston TX. It is a 5 hour trip via auto – about 275 miles each way. We made reservations at a Marriott Hotel – which we did not know at the time – that was located in the Medical Center area of Houston and across the street within walking distance of of the MD Anderson Clinic. Our appointment was for Wednesday morning at 9:30 AM. Armed with all of our records, we found our way to a huge waiting room on the ninth floor of the clinic. Both of us were quite nervous as we sat in the waiting room. We obviously were the only newbies – no body else had their x-rays, etc.
Finally, Diana was called. A nurse took Diana's vital signs like weight, blood pressure, temperature, and put us in an examination room. After a long wait, we met Dr. Blumenschein. He was a young doctor in his mid to late 30's, tall and well mannered. His first question was – "Had we been given a prognosis?" Diana told him of the Frisco oncologist's prognosis. Dr. Blumenschein was quick to inform us that the oncologists quote averages and that everyone is different. He told us he would be open and honest with us – there was not a cure for Stage IV lung cancer, but many of his patients were enjoying many years of the disease being in control and that was what he would try to do for Diana.
First, as he explained, he had to know exactly what he was trying to control. Even though we had brought all of our test results, he wanted new tests completed before he would recommend any course of action. So for the rest of Wednesday, Thursday and Friday, he had the following tests scheduled: blood test, chest x-ray, pelvis x-ray, femur x-ray, CAT Scan, bone scan, MRI L-spine, MRI T-spine and brain MRI. Neither Diana nor I combined had had that many tests in our life let alone a few days. Wow. But it was sure encouraging to hear his attitude rather than the prognosis we had been given previously.
On Thursday, it was test after test. We finished Diana's last test at 11 PM after arriving at the clinic at 10 AM that morning. We got back to the Marriott around 11:30 PM. Both of us were exhausted.
While Diana was taking tests on Thursday, I was meeting with the financial people at MD Anderson. They did not like the health insurance provider that Diana had. Rather than have a delay while they were getting approval – I gave them a cash deposit on account so we could proceed with her tests before getting insurance approval. After a second meeting with the supervisor, MD Anderson agreed to invoice Diana's insurance company directly. They originally wanted me to pay all the bills and for me to submit them to the insurance company. Whew! What a job that would've been. I am not a trained salesman: however, I used all of my high tech selling experience in getting MD Anderson to agree to invoice Diana's insurance provider directly.
After 3 full days of tests we drove home on late Friday afternoon. It was a long drive, but both of us were encouraged by what we had seen heard and been through in our first visit to MD anderson. Their attitude was different and although both of us were tired, we felt as if we were making progress and doing the right thing. Our next appointment would be January 12 with Dr. Blumenschein to discuss the results of the tests.
To continue with the Diary Of A Cancer Caregiver journey, click on the link below