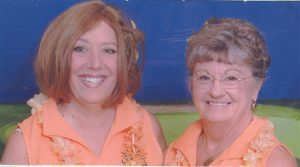 For the past couple of weeks, life has been almost normal. Diana had no negative reaction to her last chemo treatment on July 13. Diana has started to drive and travel locally to stores, etc by herself. We had a cookout on the fourth of July for the three of us (Diana, her mother & me). Later we watched fireworks from our yard. The rest of the week was great. I would go to work at GT.com (GolfTournament.com) and Diana would stay home. We also received our first inquiries from potential buyers of the business. I had two meetings – off premises of course – with potential buyers. I was surprised but happy about the amount of interest in GT.com and the activity. Good problem.
We travelled to Houston last weekend and spent Saturday and Sunday as tourists in Houston. A new experience for us. We stayed at the JW Marriott which is near the Houston Galleria – a large high end shopping center in Houston. We ate out a few times and walked around the mall. Diana did not buy anything, but we had a great time. We spent much time driving about different sections of the Houston area and visited several housing developments. We saw lots of areas we did not like and a few that we did like. At least we started the process of investigating where we would like to live in the Houston area. It was time well spent. We were both tired at the end of each day but enjoyed doing other things in Houston – rather than going back and forth to the MD Anderson clinic.
Diana had tests scheduled for Monday – Wednesday – Blood tests, X-rays and CT Scan and an appointment with Dr. Blumenschein Wednesday morning. On Wednesday, we met with Colleen – DR. Blumenschein's PA (Physician Assistant) and Dr. Blumenschein. Dr. Blumenschein was absolutely ecstatic with Diana's results. He commented to Diana that he does not get to give good news to patients very often, He said her news was not good news but great news – The tumor shrank about 40% from the May tests. That means that the tumor has shrunk about 75% since March. Dr. Blumenschein is going to continue with the same chemo – Alimta for at least 2 more treatments and possibly 4 if Diana continues to respond. Dr. Blumenschein said that it is very common for the cancer cells to get immune to the chemo after 2 or 3 treatments and start to grow/spread. He said Diana was one of the lucky ones in that the chemo was still working after 5 treatments. Diana was scheduled for her next Chemo treatment later in the day and that would be number 6 with Alimta.
We are now home, we dove home Wednesday night after Diana's treatment. Diana has had no negative reaction at all this time. The last 3 times with the new nausea medicine have been great. We have had a restful weekend in the house. I worked a couple of days and Saturday morning trying to catch up. I am in telephone communications with her office several times a day when we are traveling and the office calls me on my cell phone if I am needed for any reason.
We made arrangements for Diana to get her next chemo treatment in Frisco again at Dr. Trillo's office in 3 weeks. It went so well last time. Home in ten minutes after her chemo treatment. No sleeping in a hotel bed. Home cooking made by Diana's Mom. Life is pretty good right now. Three weeks after the Frisco chemo treatment, we will then return to MD Anderson for the next series of tests and chemo treatment during the week of August 22,2005.
We are planning to attend a Drum Corps competition in Dallas on Thursday night, July 28. A competition is held in Dallas every year even though Dallas does not have a local drum and bugle corp. There have been attempts to start one in Dallas but they have been unsuccessful. We have attended 2 or 3 of the annual Dallas competitions in prior years. There will be 8-9 Drum Corps from all over the US performing that night. The corps are touring their way on to the National Championship which will be held in Providence RI in August this year. The competition we are going to will be held outdoors in a local football stadium. For those of you that don't know, Diana played the Bugle in a Drum Corp in her growing up years so she relates to what is going on as the corps perform. I just watch and listen while she tells me every time some one in a performing corp makes a mistake. I guess it is similar to when we watch a football game together on TV (not very often). Since I officiated football. I tell her every time a team makes a mistake. I'm not sure she is listening. But this will be a very fun filled event for her – even in Dallas 95 degree weather.
Again, THANKS for your support and prayers. We both appreciate them.