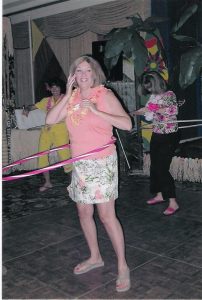 It has been an outstanding four weeks since my last email. Diana has been feeling great and very active during this time period..
The Stonebriar Women's Golf Association Annual Member-Guest Queen's Quest Golf Tournament was held last week. Diana's friend Linda flew in from Oregon on Monday. Diana and I went to DFW Airport to pick her up. Linda was a guest at our house for the week. On Tuesday, Diana and Linda played a practice round of golf. It was the first time Diana had played 18 holes in one day since Hilton Head.
Dr Blumenschein was out of town this week so we made arrangements to get her chemo treatment in Frisco. Dr. Blumenschein sent Dr. Trillo, the original oncologist we had seen in Frisco Christmas week before going to MD Anderson, the chemo treatment orders to give Diana. In preparation for Diana's chemo treatment on Friday after the golf tournament, Diana went and had her blood work done after playing golf on Tuesday afternoon.
Tuesday night a theme party was held for the golf participants at Stonebriar. Diana and Linda went and had a good time. At the "Maui Wowi" theme party on Tuesday night, a Hula Hoop contest was conducted for all participants. In her day, Diana was a good "hula hooper". On this night, it came down to two finalists – Diana and one other – all the others "lost their hoop". Well, Diana did not lose her hoop on this night either – she did tire and just stopped "hula hooping", letting the other participant to win. She did great and had a really good time.
Diana played in the golf tournament for 3 days (Tuesday – Thursday). The temperature was in the high 90's every day. She had a great time – although quite an emotional one for her. Seeing all those people and everyone asking her how she was – or how glad they were that she was better. It is the first time she has been in a social environment since she was diagnosed. The emotional part was harder than the physical. She played all 3 days – quite an accomplishment and was quite tired when it was over. Diana had set her goal – when she was in bed sick and could hardly walk in March to play in this golf tournament. And through some miracle she made it! You don't know how happy it made me to seeing her have some fun.
On Friday morning, I took Linda to the airport. On Friday afternoon we went to the original Oncologist's office – we saw him in December before going to MD Anderson – for her chemo treatment. Dr. Trillo has been getting all of Diana's reports from MD Anderson but had not seen Diana since December. Dr. Trillo was visibly surprised and shocked at how good her physical condition was as were the nurses in his office. He was very happy. It made Diana and I both pleased and proud. After the treatment, we drove the 10 minutes home – quite a different drive from the one we usually have coming back from Houston.
Diana took the same anti nausea medicine this time and hasn't been sick at all after this treatment. She has been very active since the chemo treatment including going bowling on June 24 with friends – one week after receiving her chemo treatment. Diana has always loved bowling. We never went bowling very often but Diana often mentioned that we should go bowling. Every time she saw bowling on TV, she would say we need to go. I used to enjoy bowling but was able to avoid going for many years.
Well we finally went bowling. There is a new bowling alley in Frisco. Opened up a couple of months ago. I don't know how long it has been since you have been to a bowling alley – but this is not how I remembered them. The alleys, balls and pins were the same. But the flashing lights and loud music were not what I remembered. Unfortunately, I have been hobbling around all weekend – sore from bowling. We haven't been bowling for at least 15 years. Diana has some sore muscles also. It was fun and we both had a great time even though we are now paying the price – especially me.
Our next visit to MD Anderson is scheduled for the week of July 11, Diana will get a series of tests at that time – CT Scans, x-rays, etc – to measure her progress. We will see Dr. Blumenschein at that time also. Her next chemo treatment is scheduled for July 13. I expect that based on the test results Dr. Blumenschein will provide us with an update to Diana's treatment schedule for the next few months. She is doing so well – i don't expect he will change the chemo treatment for the next 2 – 3 months.
In the meantime, we plan to spend a quiet July 4 at home. There will be fireworks all around us that we can see from our yard and that is where we will watch them. In the meantime, even with all of this activity, I have made progress with our goal of selling Diana's GolfTournament.com business. I have selected a broker to handle the transaction and have provided him with all of the information he has requested. The business will formally be put up for sale on July 5 (of course without the employees knowledge.) I hope you all have a great fourth. I know we will.
Thanks for your support and prayers.