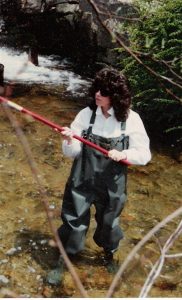 We left for Houston early Monday morning May 2 and spent the last 3 days at MD Anderson and returned home on Wednesday evening. It was a good trip to Houston. Per an earlier phone conversation I had with Dr. Eapen, he wanted us to drain Diana on Monday morning before we left. We were to see him Tuesday morning. We had not drained Diana in seven days – one week! We both got up early – both of us were anxious to see how much fluid had accumulated – and we needed time to drain before we left on our trip to Houston. I was so nervous draining Diana that morning – you would've thought that I had never performed the function before. After uncoiling the drainage tube, connecting the tube to the drainage bottle then collecting only 30 ml of fluid. We were both excited. Wow, seven days and only 30 ml. I think we could have run to Houston. Anyway, it made for a great ride to Houston. This was probably the first time we were excited to be going to Houston.
On Monday afternoon – Diana had her blood tests and chest x-ray. After her tests, we checked into the hotel. we were both mentally fatigued and went to bed early.
Tuesday morning at 10:30 AM we had an appointment with Dr. Eapen (Pulmonary). He looked Diana over – reviewed her chest x-ray that had been taken Monday afternoon and said everything looked great. After reviewing her drainage records, he said he thought it was time to remove the Pulmonary Cavity Catheter from Diana. But,first he wanted 2 more lateral x-rays to review so he could confirm all was well since Diana only had a frontal x-ray taken on Monday. He asked us to wait while he scheduled the new x-rays. In about 5 minutes he came back in and said they were scheduled. So Diana went downstairs in MD Anderson and had 2 more x-rays taken. After the x-rays were taken, we returned to the Pulmonary Department around 11:30 AM for his decision. Five minutes later, Dr. Eapen came in the room and said the x-rays looked good and he confirmed his decision to remove the Catheter. Thus at 11:45 AM, Diana entered a procedure room and her Pulmonary Catheter was removed by Dr. Eapen's PA (Physician Assistant). The procedure took about 45 minutes to complete. At 12:30, we were walking out the front door of the clinic. I have never been so excited in all my life. I know Diana was happy even though she was a little sore. Neither of us expected this – it was so great. We knew Diana was improving but we did not expect this fantastic result.
Diana's next appointment was at 2:40 PM for her CT Scan. Since we had time, I suggested that we go out to lunch and celebrated. There is a neat little shopping area not far from the clinic – Rice Village. It is close to Rice University which is also located near the Medical Center. We found a nice restaurant that had outside seating on a porch. The weather was great – around 80 degrees. Perfect for an outdoor cafe. The food didn't matter – but we both had the best lunch. I kept pinching myself to make sure I was awake and not dreaming what had just happened.
We drove back to the clinic in time for our 2:40 PM CT Scan. We quickly found out that Diana was not supposed to have any solid food for 3 hours prior to the CT Scan. We both knew that previously but got caught up in the excitement of having the catheter removed that we both forgot. So we had to wait until 4:30 to do her CT Scan. Needless to say – Diana was mad at me for making us spend so much time in the waiting room. The lunch was ok – but not worth a 2 hour wait for her. For me it was worth the wait but not for Diana. We finally got her CT Scan and went back to the hotel for the evening. Diana was exhausted after a good but tiring day. (I was exhausted too!!!) And she was sore from having the catheter removed.
On Wednesday morning, our appointment with Dr. Blumenschein was scheduled for 8:50 AM. Neither of us slept well Tuesday night – and we both got up early Wednesday morning. Needless to say we were both nervous about what Dr. Blumenschein would tell us of his findings. Especially Diana. We had to wait in the big waiting room at MD Anderson which is always crowded at that time of day. It is not a great environment to sit and wait. All around you are sick people – many of them very sick. Diana finally got called by the nurse at 10:00 AM. They always take all of your vital signs every visit – ie, weight, blood pressure and temperature. If you have three appointments in a day as Diana sometimes has, her vital signs get taken three times that day. Diana's blood pressure registered 155/125 this morning. The highest I have ever seen it. We did our best to calm Diana for about five minutes. I rubbed her back and told her relax. I asked the nurse to please retake her blood pressure. The nurse did so. I don't think she wanted to record 155. The new blood pressure came back at 127/80, much closer to normal. The nurse was surprised that it dropped so quickly. Diana was a case of nerves at that time.
The nurse left and another 15 minutes went by before Dr. Blumenschein finally came into our examination room – He had the biggest smile on his face that we have ever seen. He looked at Diana and said – "Your response to this new chemo is unbelievable." He then went on to say that the CT Scan had not been read by the radiologist yet but Dr. B stated that he looked at the images. He saw no indications of any new cancer and the tumor has been reduced in size by at least 50%! He then said to Diana "Diana – this is fantastic news – you should go home today and go out to dinner and celebrate this great news."' He then proceeded to show us on a computer – a split screen image of her lung – The CT Scan in March and the CT Scan taken yesterday. It was unreal. In March, her left lung was almost not visible due to the fluid and the tumor. You did not have to be a doctor to say that something was wrong with the lung in that scan. In the new image – Diana's left lung looked normal. It reminded me of pictures of lungs that I had seen in text books as a kid. Viewing the two images side by side – I cannot describe how dramatic the difference was! Needless to say – both of us were and still are quite elated! (As is Dr. Blumenschein).
We inquired about Diana's ability to play in the Queen;s Quest golf tournament. Dr. B was all for it but would make a final decision closer to the date. He saw no reason not to play and encouraged Diana to go ahead and play.
At 11:00 AM, we felt like we were walking on air as we headed over for Diana to get her next chemo treatment. Once Diana got the IV connection inserted, I left the clinic and went back to the hotel to check out. At 2:00 PM we were on the road to the Big D. We stopped and ate Thai food – one of Diana's favorites – for a late lunch. It was the most pleasant and enjoyable ride we have had from Houston.
Well, we came home – arrived around 7 PM – but since we were both extremely tired – we decided to stay home and relax – we will celebrate later.
Diana's next treatment is scheduled for May 25 at MD Anderson. We expect her to have a few not so good days the next 4-5 days but after that – we expect Diana to be up and about and fairly active until our next treatment. We have changed the nausea medicine again – maybe one of these times we will find something that works better on her.
Thanks again for your support and prayers. They are working.