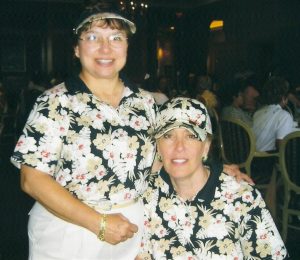 Upon our return to Frisco from our Hilton Head vacation, an appointment was made with my pulmonary doctor for Diana. I have struggled all of my life with colds turning to bronchitis very quickly. In early 2004, I had a cold that became bronchial. After visiting the doctor, an x-ray and CT-Scan were performed on me. The diagnosis was a hiatal hernia that would need to be watched. Nothing serious. A nasal spray was prescribed and I used it for a few months. Today, I am feel fine.
In the meantime, Diana and I would continue to go to work everyday. It was hard for Diana to speak, so she was avoiding speaking on her telephone. Since most of her customers and vendors were located across the US – avoiding the telephone meant speaking to no one except the employees. It was bothering Diana mentally also. She was very worried and concerned about what was wrong with her. The stress was building. I was very concerned and wanted to find out what was wrong with her.
In November, Diana made several visits to the pulmonary doctor's office. I went with her every time. The doctor originally thought Diana was under stress. He prescribed medicine for the cough and wheezing. A couple of weeks later, when she did not respond to the medication, I called the doctor for a follow up appointment. This time, an x-ray was finally scheduled. The x-ray showed an abnormality in Diana's left lung and that would require more investigation with a CT Scan. A CT-Scan was scheduled for Diana in early December at a Plano hospital.
At this time, we were still not thinking of anything as serious as cancer. I had gone through this same test process six months earlier and it was something minor. We knew Diana was ill and wanted to get her better. we were a little frustrated because it had taken so long to get to the CT Scan test. After all, it was more than a month since Diana's first appointment.